Let's be honest - they're flat-out fun!
These days, adults like you and I use electric scooters as daily drivers. Whether you're headed to grab some coffee, making your daily commute to work, or just looking to have some fun in your free time, an adult electric scooter is an economical, environmentally-friendly choice. 
‍
Electric scooters are a practical, exciting mode of transportation. But only if you find the right one. As you can probably imagine, not all electric scooters are created equal. The last thing you want to do is waste your hard-earned money on a slow, boring e-scooter that dies quickly and needs to be replaced. You want to get it right the first time. That's why you're here today to learn all about the best electric scooters for adults.
We're going to unveil our three selections for the best electric scooters of the year. These are the most sophisticated, highly-touted e-scooters on the market. And soon, you'll understand why.
‍
From the ultimate off-roading electric scooter to pavement princesses, and even scooters for golfers - we've got the perfect match here waiting for you. But first, we want to take care of some quick housekeeping so you get the most out of this guide.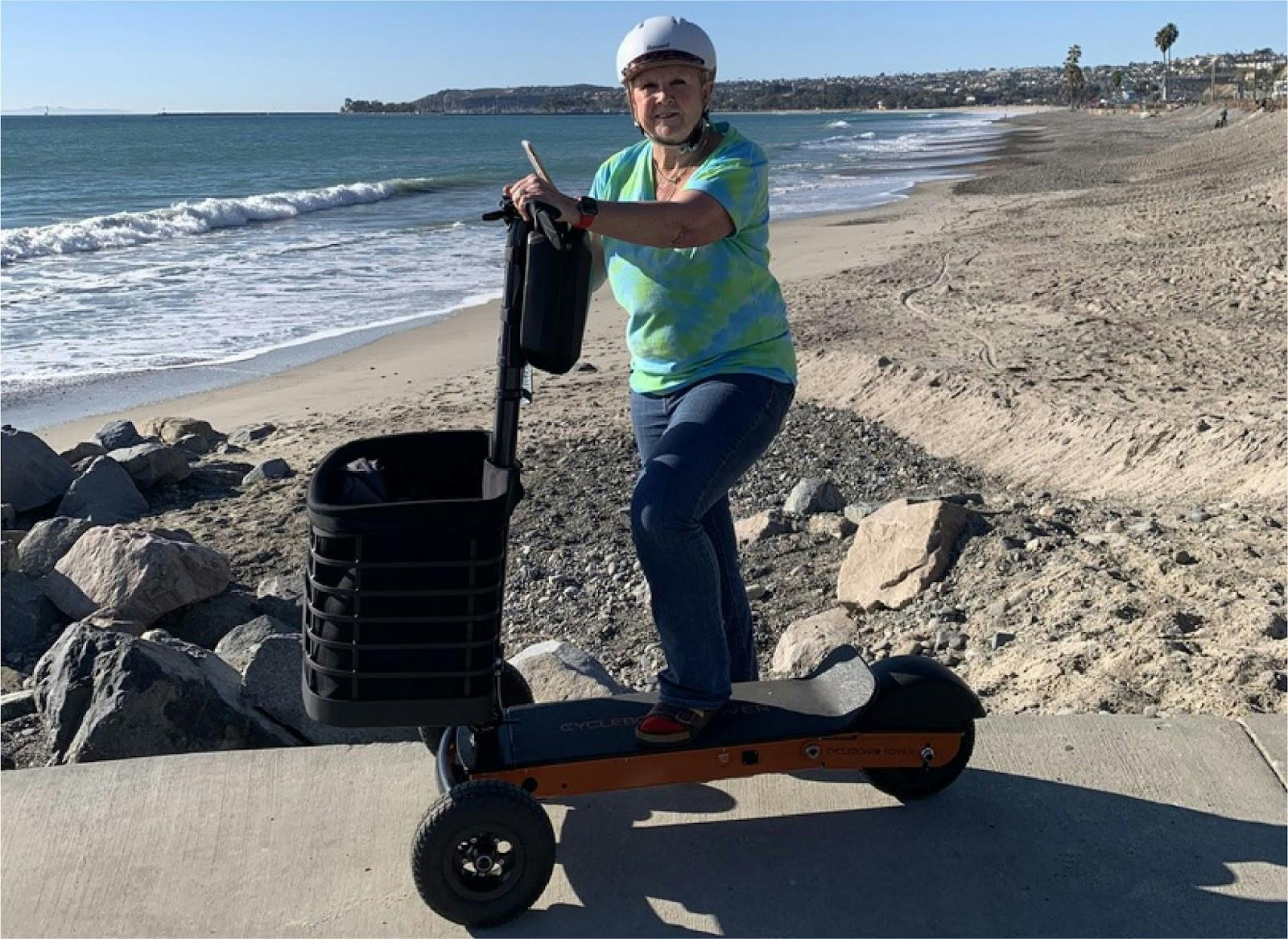 Why Is Finding The Best Electric Scooter So Important?
As the demand for electric scooters has increased in recent years, so too has the supply of cheap, low-quality electric scooters. There is no shortage of electric scooter manufacturers just here to make a quick buck. That's why it is so important that you do your due diligence before buying your electric scooter.
‍
The reality is that quality electric scooters can get pricey. Some first-time buyers try to save money by shopping on price, going with the $500 options. But the result is usually the same - they end up disappointed and frustrated. These low-end scooters underperform and end up needing to be fixed or replaced faster than you'd like.
‍
As such, it is important to go into your shopping experience with the right mindset. If you truly want the best, you're going to have to pay for it. The good news is that most manufacturers make it easy to set up payment plans. You won't have to fork over a lump sum all that once. Instead, you can pay as little as $120 a month. Compare that to an average car payment ($350+ with a $5-10K downpayment), and investing in your own electric scooter is one of the best decisions you can make!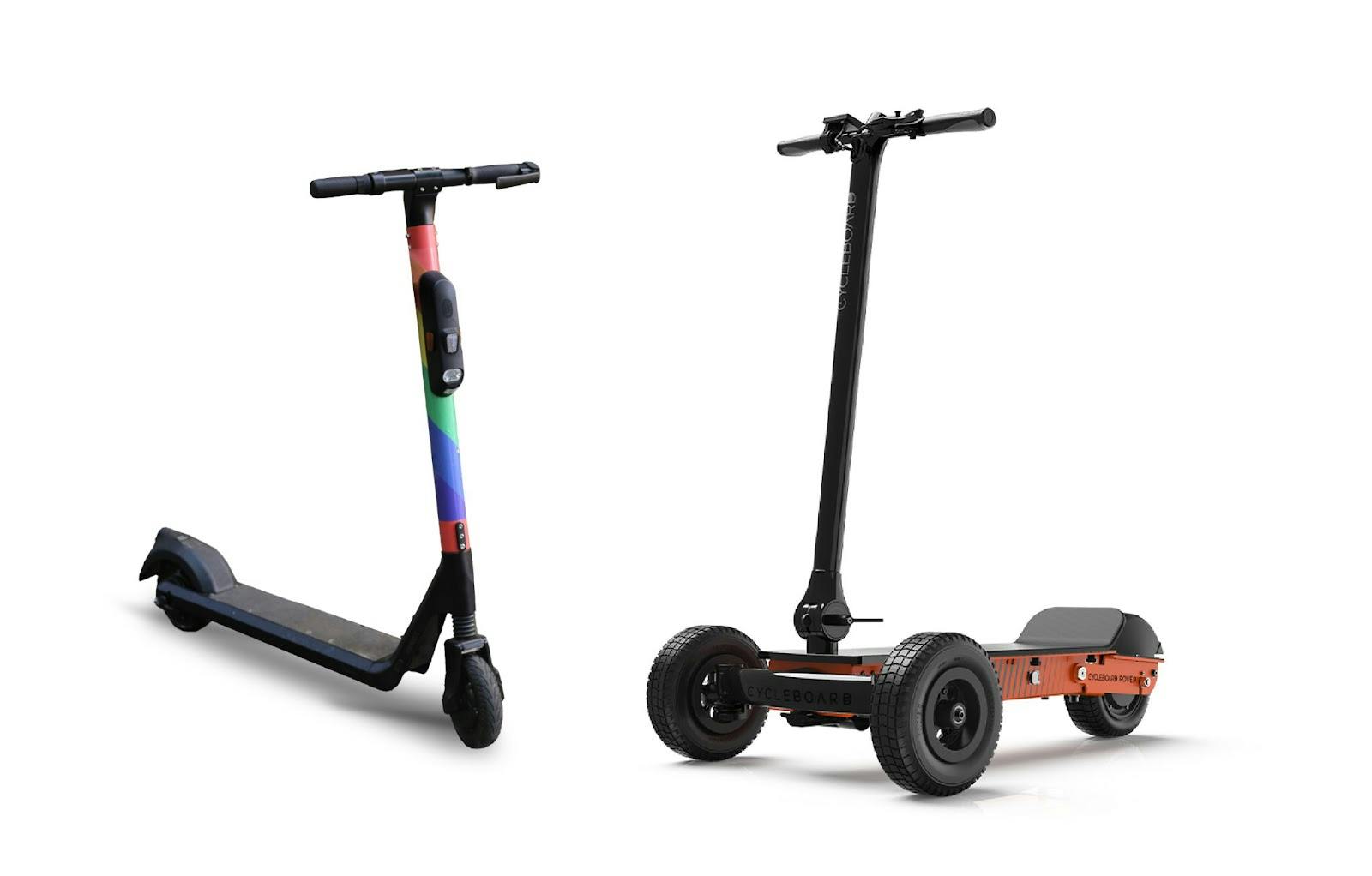 ‍
What Makes The Best Electric Scooter? Our Criteria Explained
Anyone can claim to sell the "best" electric scooters. This topic can get really subjective, but we're going to simplify it for you. We'll define what makes the "best" electric scooter to us, so you can gain a better understanding of what you should be looking for yourself. Here are the features we took into consideration in compiling this list.
Power & Speed
One of the most important features of your scooter is the power it has. Simply put, electric scooters with more battery power go faster. The top speed of your electric scooter will likely factor into your decision more than any other feature below - besides maybe battery life.
‍
On this list, we'll feature electric scooters with top speeds just shy of 30 miles per hour. This speed doesn't just unlock endless fun and excitement. It also makes for a more practical scooter investment. You can use it to get to and from work quickly if you live a few miles away in the city. If you wake up one morning running a bit late, you'll think back and wish you had gone with a faster scooter.
‍
Power doesn't just affect your top speed, though. It also affects the different types of terrain you can traverse. Some electric scooters are powerful enough to climb steep hills, while others will have to be walked up the hill. Which would you prefer?
‍
Similarly, if you're planning to take your electric scooter off-roading, you'll want more power. The last thing you want is to get stuck in the grass or dirt. Power helps you push through terrain with more friction.
Speaking of different types of terrain, let's move on to another really important factor: tires.
Tires
The tires on your electric scooter are another essential consideration in your buying journey. The best electric scooters, in our opinion, are those with all-terrain pneumatic tires. Large pneumatic tires allow you to ride on just about any surface you can imagine: grass, dirt, gravel, you name it.
‍
On the other hand, if your scooter has solid tires, you're pretty much limited to the pavement. This may be fine if you only use your scooter to get to and from work. But it's nice to always know you have the ability to go off-road. You never know when it will come in handy!
‍
But when we talk about tires, we're not just talking about the quality and style - we're talking quantity, too. We know you may think of most electric scooters as two-wheeled vehicles. Traditionally, that may be true. But these days, more and more people are discovering that three-wheeled electric scooters are actually superior. They unlock greater stability, safety, and traction.
Suspension
There's one final feature of an electric scooter that affects its ability to traverse a variety of terrain: the suspension. With a responsive suspension, you can leave the pavement without worrying about breaking down on bumpy paths.
‍
Plus, better suspension ensures a smoother, more comfortable ride. Sometimes you'll want to head off-road for some adventure, but other times, you'll want to cruise the pavement like you're floating on a cloud - and your suspension system matters.
Steering
‍The steering system of your electric scooter greatly affects the experience it offers. The three scooters we're going to share with you today feature a patented steering system that is unlike anything you've seen before. As a result, you'll enjoy greater control and stability. The experience is one of a kind.
‍
Battery Life & Charge Time
If you want to use your electric scooter as your daily driver, you need to make sure it has ample battery capacity to get you to and from your destinations. If your range only allows you to go 10-20 miles, you'll be cutting in close depending on where you live.
‍
And, you'll be forced to remember to plug in your electric scooter after every single use. If you forget to charge it one night, you'll wake up the next morning to a dead battery. With longer life, you have more forgiveness when you forget to charge your scooter.
‍
More battery capacity also unlocks greater possibilities in the adventures you take. If you want to head out one Saturday afternoon and just see where the wind carries you, you'll want a nice long range of at least 30 miles so you can truly feel free.
‍
Speaking of the battery, you should also consider the charge time of your battery. The faster you can get your battery back to fully charged, the better.
Portability & Size
While you may not have thought about the size and portability of your electric scooter at first, you'll want to consider it. After all, you've only got so much space in your garage!
‍
On this page, you'll discover that some electric scooters actually fold down. This makes it easy to pack up your scooter in your car trunk when you go on vacation to the nearest beach town. It also helps with storage. To make transporting and storing it even easier, look for a lightweight electric scooter.
Other Factors Worth Considering
There are a few other factors worth considering while evaluating the different electric scooters on the market. Everyone talks about speed and power, but one thing that often gets overlooked is the brakes. The brakes on your electric scooter can quite literally save your life. Look for a scooter with an electric braking system - these are the safest out there.
‍
You may also want to consider any security features your scooter has. For example, some scooters have a frame hole locking location that makes it easy to up your scooter when you're out and about. You really can't put a price tag on that kind of peace of mind.
‍
If you're going with the best electric scooter possible, you'll want to take into account the warranty, too. While you shouldn't have to worry about issues arising when you go with the "best", it's nice to know your investment is protected. In the rare occurrence that something were to happen outside your control, you'll wish you'd gone with a scooter that had a solid warranty.
‍
Of course, there is so much more that goes into selecting the right e-scooter for you. These are just a few of the key features and variables we considered when selecting what we believe to be the three best electric scooters on the market this year. So without any further ado, let's get right into our list!
The 3 Best Electric Scooters For Adults in 2022
We've got 3 amazing electric scooters to share with you today. The best part is that each of these serves a different purpose! There is truly an electric scooter for every rider out there. Let's get started with one for those who are just looking for something to get them from point A to point B in the city.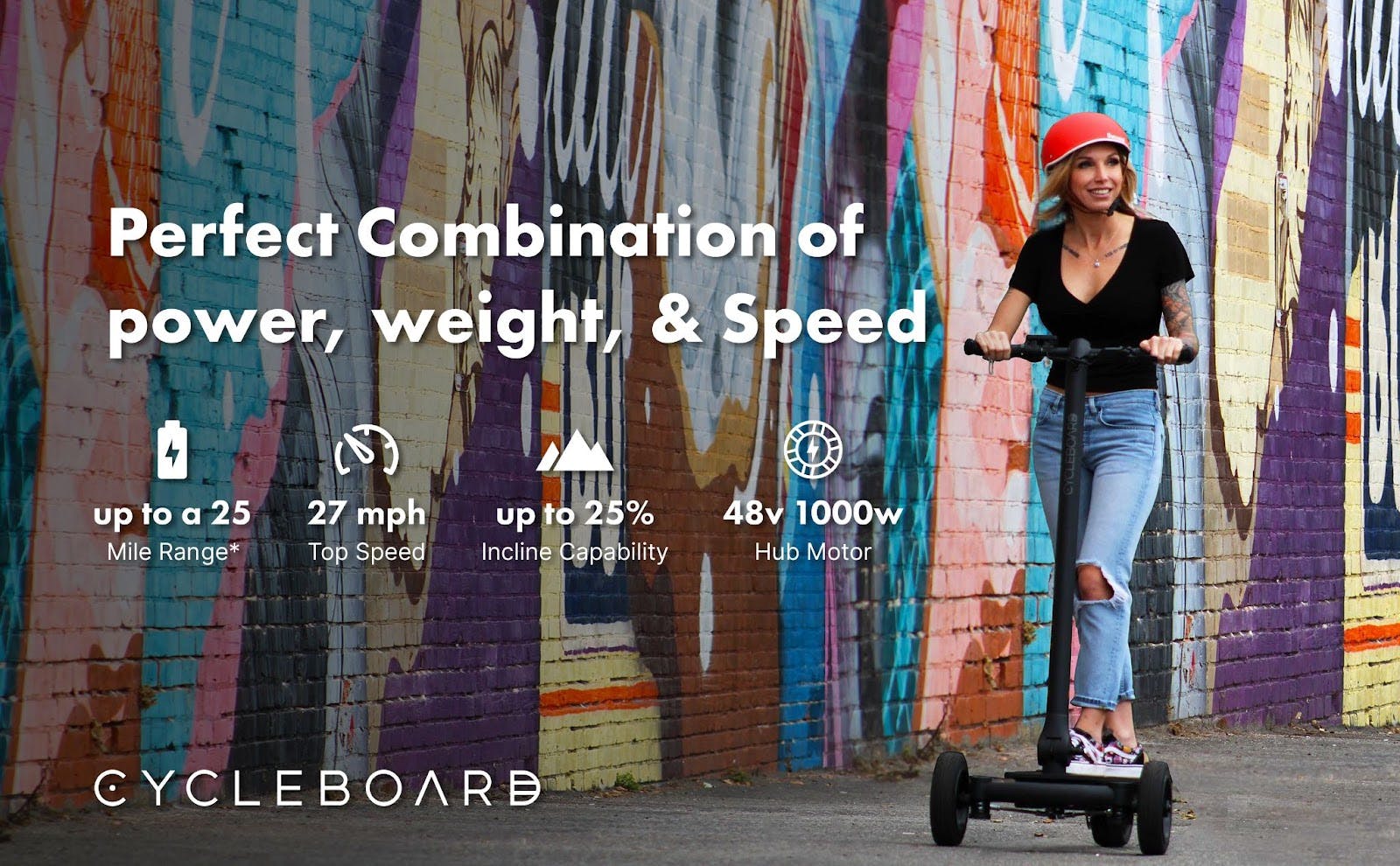 The Elite Pro: The Best Electric Scooter For Pavement Riding
‍
The Elite Pro Electric Scooter is built for performance. It features a modest 1,000-watt motor that unlocks a max speed of up to 27 MPH. This also allows the scooter to climb up to a 25% incline without issue. And with a battery range of 25 miles, you may be able to go an entire week on one charge depending on how far your commute is!
‍
People love this e scooter because it's fast and agile. It sits on custom street tires for a comfortable, smooth ride. Carving up the streets on this scooter is a surreal experience. That's not only because of the tires, though. The sophisticated lean-to steering system it employs is one of a kind, as we mentioned earlier. It also boasts a full suspension system to allow for vibration absorption on those bumpy roads.
‍
With responsive brakes and a wide base, you'll be confident cruising the road on your Elite Pro. It's sure to be a thrilling ride each and every time. But the one issue with this scooter? It's limited to the pavement. If you want something that comes with no limits, check out the Rover.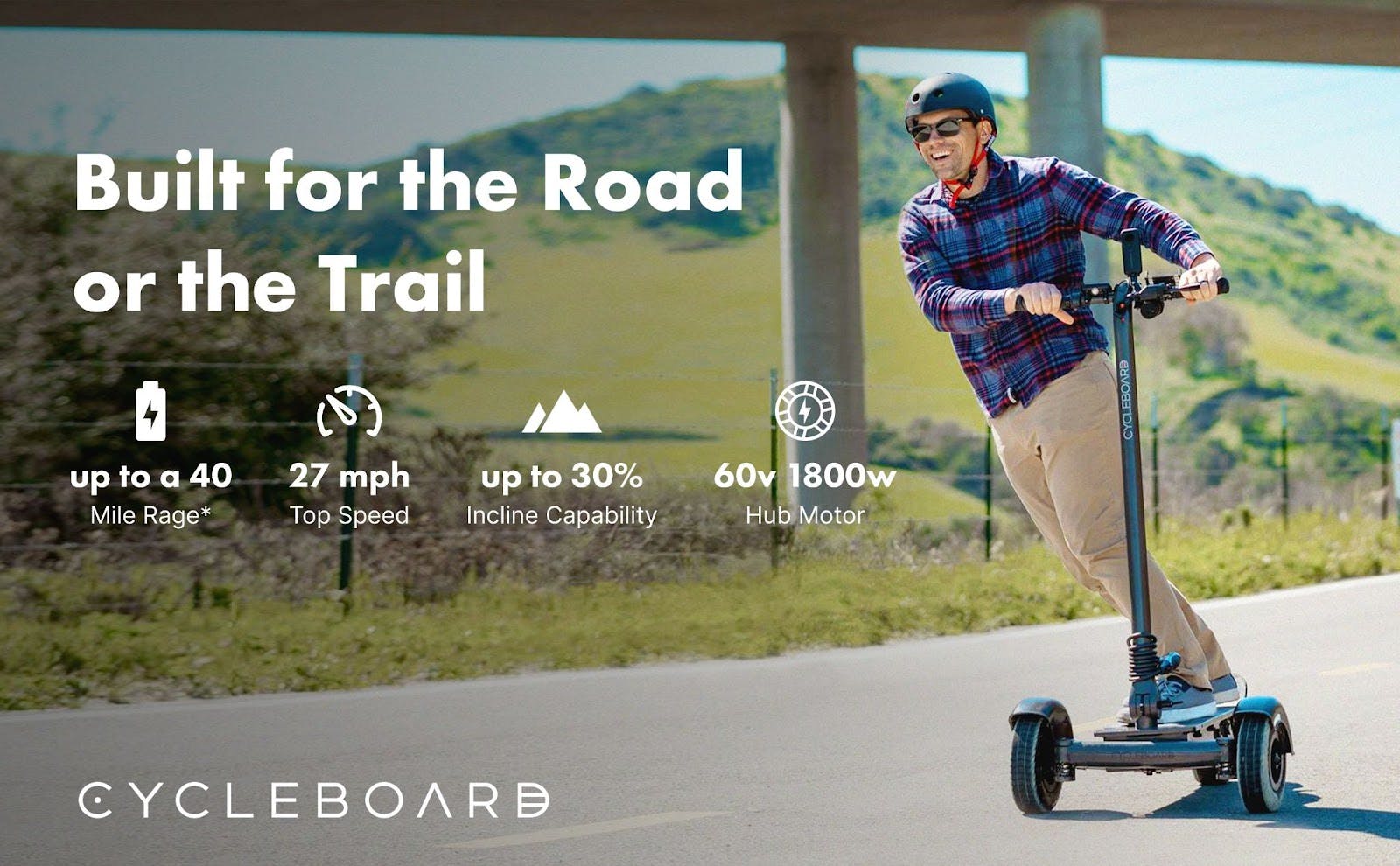 The Rover: The Best All-Terrain Electric Scooter (Our Pick)
We believe the Rover is the best all-terrain electric scooter for adults. If we had to just recommend one electric scooter - it would be this one. Not only can it get you to and from work, but it can also take you across any type of terrain you can imagine.
‍
With a powerful 1,800-watt motor, this beast can reach a top speed of up to 27 MPH in right around 5 seconds. But, it can climb even steeper hills than the Elite Pro - up to 30% inclines in this case. And, you can choose from 1-5 speed modes to match your riding environment. The range on this scooter is far more impressive, too. You'll get over 40 miles per charge. Yep - we meant it when we said this electric scooter comes without limits!
‍
The scooter itself is built to withstand the rigors of mixed-terrain riding. With a full suspension system and large, 10" pneumatic tires, you'll transcend pavement with ease. It features the same intuitive steering system, 3-wheel design, and responsive hydraulic/electric brakes as the Elite Pro.
‍
Whether you want the best electric scooter for the road or the trail, the Rover is it - no doubt about it. But if you happen to be seeking an electric scooter that doubles as a golf cart, keep reading.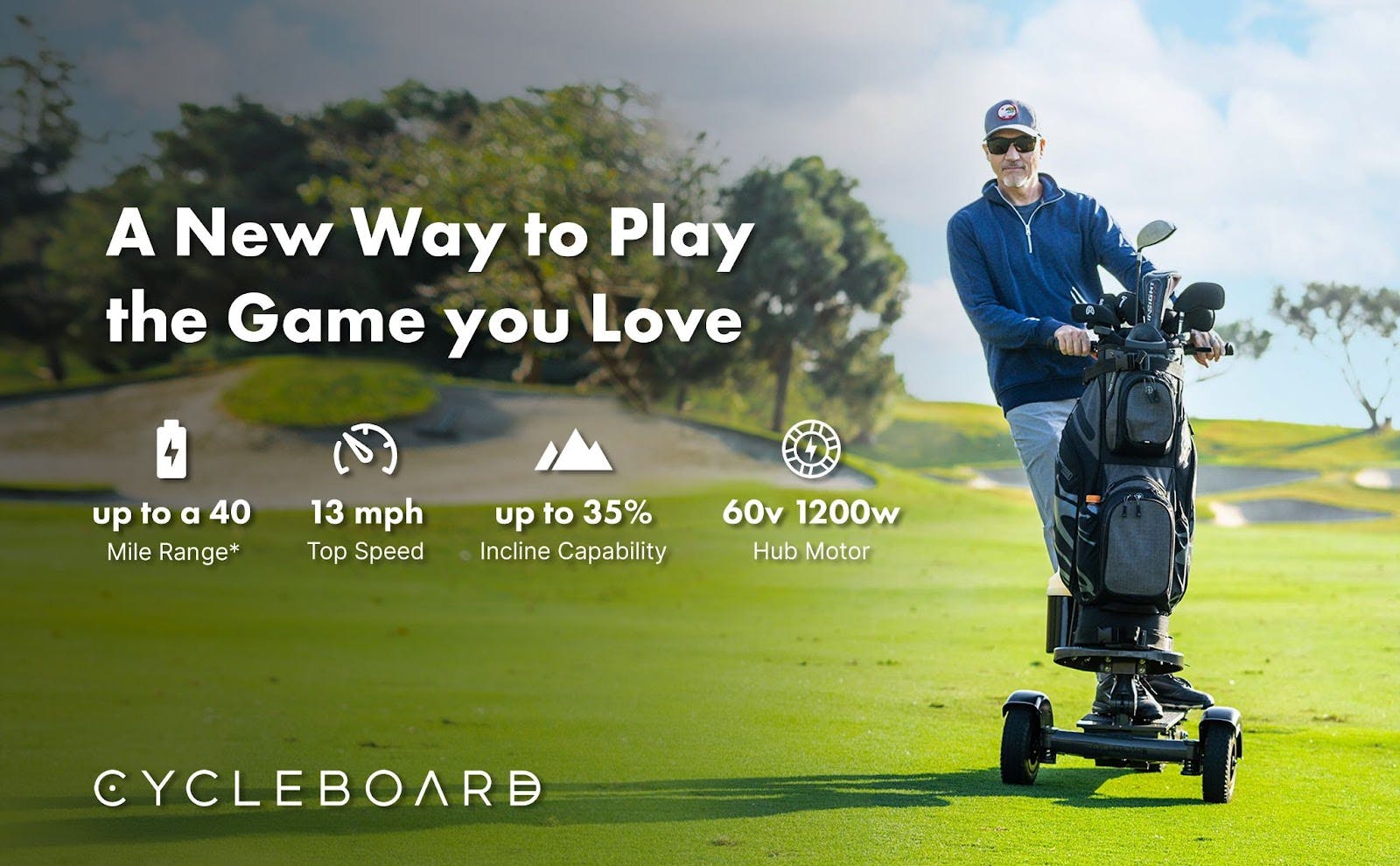 The Golf: The Best Electric Scooter For Golfing
If you're a golfer, you know how frustrating those long, grueling rounds can be. You go out on the course to have fun, after all. What if you could add a bit of excitement to your rounds while finishing them 50% faster?
Well, with the Golf Electric Scooter, it's possible. This thing was built to traverse the fairways safely and efficiently, with large pneumatic tires and incline climbing abilities of up to 35%! Secure your golf bag up front, and you even have room for some divot repair! This awesome electric scooter can even reach a max speed of 13 MPH - blowing past your partners in their golf carts.
‍
This scooter will transform the way you play golf forever. It's something you'll have to experience first hand to truly understand. And at the end of your round, you can quickly fold it up, put it in the trunk with your clubs, and head home. You'll even be able to get a few rounds out of a single charge, with a range of 40 MPH!
Final Thoughts On The Best Adult Electric Scooters Of The Year
Well, there you have it - the best electric scooters for any adult out there. No matter what you're looking for, we've shared a perfect pick for you. Once you've tried out a CycleBoard, other electric scooters just won't do it for you anymore. Other scooters cannot replicate the intuitive steering, power, and off-roading abilities we've created.
‍
All that is left to do now is determine which one is right for you!
‍
All the scooters above come with the same outstanding 36-month warranty on the motor and chassis. Most of the other components feature a standard 12-month warranty, too. That means you can shop today in confidence.
‍
Furthermore, you can set up hassle-free financing for any of these rides. Through affirm, you'll pay as little as $120 a month. So what are you waiting for? Head over to CycleBoard and find the best 3-wheel electric scooter for you!